Subpage under development, new version coming soon!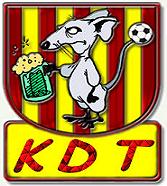 Owner:

theKarsten
-
online
---
Joined:
2005-06-13
Language:
English
---
Latest logging: 2021-12-03
---
Messenger ID: :
---
City: Espoo Birth date: 1983-04-18
---
---
Coach:
Suomi U21
---
5431.56

Leagues:
I-divisioona.03
Nappulaliiga
---
---
---
Last matches:
---
---
Kulkuset kilisee...
2006-12-24 12:30
Karsten Dream Team pääsi joulun viettoon sarjansa kärkipaikalta, kun Team Henkka kaatui Niittylahden lopussa tekemillä osumilla lukemin 2-0. Viisi voittoa viidestä ottelusta onkin taannut KDT:lle vakuuttavan viiden pisteen johtoaseman sarjassa.

Joukkueen perinteinen joululounas syötiin tänäkin vuonna heti matsin loputtua KDT-talolla kinkkuineen ja kosandereineen. Hilpeä tunnelma muuttui vielä astetta hilpeämmäksi, kun manageri Karsten saapui paikalle pelkästään tonttulakki päässään ja rusetti alapäässään. Kulkuset iloisesti helkkyen hän loikki salin halki, tönäisi 4H-kerhon Tonttukuoron lavalta helvettihin ja alkoi sopertaa mikkiin:

"Tämä kaushi on mennyt oikein hyvin! Yhteenkään peliin en ole vielä pääshyt paikalle, yhtäkään vahvishtushta en ole oshtanut, penniäkään en ole pellajille makshanut ja shilti tili on rällätty miinukshelle niin että pyshyy! Mutta täytyy kyllä shanoa, että näin haushkaa minulla ei ole ollut koshkaan! Ja Patellalle vielä terveishiä; te ootte meille pelkkä houshu!!"

Tämän jälkeen mies lurautti Kilisee kilisee kulkuset teemaan sopivalla koreografialla höystettynä ja sammui kulkuset lanttulaatikossa.

24.12.2006 A.F. -Paskapaperi-
---
2016-11-24 20:51
---
2009-12-15 14:23
---
2008-01-29 17:32
---
2007-10-14 18:54
---
2007-03-06 19:23
---
2006-12-24 12:30
---
2006-07-24 21:53
---
2006-05-28 14:20
---

Great Mate ..Another adventure with Suomi U21...you deserved rielection! Good Luck!!!
DON SAL 2021-08-15
---

Fortunately I don't have a load of cretins to cause havoc for me. However, I will still be putting in multiple appeals and throwing my toys out the pram until I get my own way.
aluminium 2021-01-07
---
entries: 1025 | next
Invite friends and earn free Plus!
Number of users invited: 0

---